script * Playscript Analysis of the Century * THR413 Playscript: 2006! amazon.com + groups.yahoo.com/group/dramlit must subscribe, if in class! * anatolant.spaces.live.com my T-blog

"A life spent making mistakes is not only more honorable, but more useful than a life spent doing nothing." -- George Bernard Shaw
---
[ advertising space : webmaster ]

PS? If you took THR215 Dramatic Literature, you should sign for THR413 Playscript Analysis!

Spring 2003: Don Juan - Biomechanics & Comedy
Spring 2002: Dangerous Liaisons & Realism & Method eGroup


HamletWeb 2002 script.vtheatre.net listing

DVD: Drama & Art House, Studio Specials & Classics, New & Future Releases, Cult Movies



Fall 2002 THR215 Dramatic Literature: Bedford Compact Intro to Drama

theatre books

Drama Pages & 200X Files Aesthetics
Mailing List & News -- subscribe yourself *

Key Terms: glossary

ShowCases: 3 Sisters, Mikado, 12th Night, Hamlet, The Importance of Being Earnest, Dangerous Liaisons, Don Juan
prof. Anatoly Antohin Theatre UAF AK 99775 USA (907)474-7751
notes

Featured Pages : Preface

Subscribe to DramLit Forum!

I use this page for reflections, when the class is over. This is an extension of the NOTES page, which I update through the semester. There are several names and titles are missing: Oedipus Rex by Sophocles and Moliere... Sometimes I can squeeze in an extra play, but it takes a week to cover any extra text... Some lose pages, like Lorca -- I like him, I directed The House of Bernarda Alba, but no time for him in both drama classes.

NEW : stagematrix.vtheatre.net: before 2009 : 2005 pages -- UAF Play fest * 2004 * Playscript Notes * biblio * Chekhov 5 * cover page * playwright * references *
* March 2006: Go.dot -- 100 years since Sam Beckett's birth *
* Caligari 2009 - Lul 2010

I placed some links into the popup window; the theory pages related to script analysis. We end up with the social (historical) commentaries on our reality (most recent titles like "How I Learned to Drive"). This is why I have a subtitle to Grammar of Drama: Script Analysis of the Last Century.
Summary
There are several way to go from here. Directing, Acting pages?
Questions
What's next? Well, I wrote drama pages for theatre majors; go to your directories -- acting, directing, film...

Pygmalion 2005 * Shaw * online *
My Main Sites * Acting I : BioMethod (clickable new windows):
"Beckett: "It's a beautiful day, isn't it?"
The friend: "Yes, it makes one glad to be alive."
Beckett: "Aw now, I wouldn't go that far.."
Quotes & Thoughts:
Theatre on the Web:

[ FAQ to myself ]

NEW * 2005 Question: Theatre with Anatoly: what are your webpages for? Dramaturgue (Don Juan) or Dramaturg? See Theatre Theory and read The Possessed D page!

...

* In addition to the dramaturgue pages. I have to work on playwrighting pages!

After 2005 [ left table ]

Virtual Theatres: An Introduction by Gabriella Giannachi; Routledge, 2004 - 1: Hypertextualities - 2: Cyborg Theatre - 3: The (Re-)Creation of Nature - 4: Performing Through the Hypersurface - 5: Towards an Aesthetic of Virtual Reality
...

...

Script Index * Thr w/Anatoly Index * PLAYS * 215 DramLit * 413 Playscript Analysis * Themes Scripts subdirectory! *
Acting: Method * Biomechanics * Directing * Write * THR Books * Theatre Theory * Book of Spectator * 200X Aesthetics * Film * * FILM-NORTH * Film Books * Mining Film * Film & Drama * Shows * Virtual Theatre * Web * CLASSES * * My Nonfiction (webtexts): Theology of Technology * POV * PostAmeriKa * Father-Russia * Bookmark vTheatre! Mailing List & News -- subscribe yourself * Film600: Bad Theory, Wrong Subjects (new) * Anatoly's Blog *
PS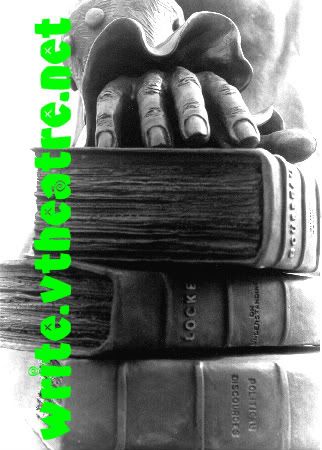 ...
2004: I am tired of webpages. I am waiting for the time, when I can use them for writing, not notes. When? I don't know. Where is this time?
Not even on this PS page? Not even at the end of the journey through so many great plays? Something is wrong. The narrative should give a birth to itself!
Especially, the history of drama came to its post-historical phaze.
So, what was this 25 centuries long story about?
You never know what is enough, until you know what is more than enough. ~William Blake, Proverbs of Hell [ Read! ]
That's all!

... Well, I'm still working on the order of the reading (THR413 Playscript analysis). What should be read first -- Pirandello or Brecht?

How to jump to Absurd & Beckett?

When and how introduce the Postmodern?

How to link the critical readings with the plays?

Updates? Next time I teach this class...
Curtain!

Where to go now? Go to my research pages!

Or to your research pages!
PS
2003-2008 (new) THR413 Playscript Analysis LESSONS (24):

Part 1. Craft
1. Review of THR215 Dramlit. Terminology.
2. [names]
3.
4.
5.
6.

Part 2. Art
1.
2.
3.
4.
5.
6.

Part 3.
1.
2.
3.
4.
5.
6.

Part 4. Writing
1. Idea (proposal)
2. Outline (oral presentation in class)
3. Scenes, monologues
4. First Draft
5. Rewrites
6. Final Draft (class), mant drafts after it...

addresses (sample): script.vtheatre.net/413/1/1.html -- part I, lesson 1
playwtrighting.net -- filmplus.org/plays
---
dramaturgy -- anatoly.vtheatre.net/dramaturg :

showcases : from Sophocles to Stoppard : shows.vtheatre.net

* analysis for directors

* actors

* designers

* spectators

... spectator.vtheatre.net
script.vtheatre.net/215

Let me repeat myself (from Film600 and script.vtheatre.net):

Where teaching and studying (research) meet --

Theme-thought, according to different playwrights (Shakespeare, Ibsen, Strindberg, Chekhov and so on) and directors (Fillini, Kurosawa, Tarkovsky, Bergman pages).

Connections with other themes (list): family, gender and sex...

Finally, my own practical investigations: shows.vtheatre.net (only recently I began to make themes pages, Don Juan 2003, for example).

And the nonfiction (writing), of course: HIM, Father-Russia, PostAmeriKa, Self, POV, Tech (gatepages are in WRITE directory).

Yeah, yeah, there is more -- "philo" pages, metaphysics: in theatre theory directory, for instance (topics-bar: space, time and etc.)

"Beyond Academic"...
Cyber-students! Subscribe to the Forums!
Mostly questions to myself... (the next time I teach it -- Playscript -- Fall 2008).

The biggest question for myself -- am I commiting myself to write another textbook (Script Analysis for Actors and Directors)?

Questions? Write them down!

[very important questions I write in big letters -- and post them on the walls of my appartment!]
Homework
Read plays! Even when you are not in college anymore.

Or better, much better -- write the plays!
NB
Come back later -- new texts. I'll post them (from the class notes).

@1998-2001 script * Fall 2002 THR215 Dramatic Literature: subscribe to DramLit Forum * AmDrama: 3 + 3 = (O'Neill - Williams - Miller) + (Albee - Shepard - Mamet1) and Kushner and others

©2004 filmplus.org *
(c)2003-2004 * Theatre w/Anatoly * Get Site Info

sparknotes.com philosophy *

Godot photo-tour:

2006: Total Directing

[ to work on ]

* Preface * Overview * Table of Contents * What's New * Feature * Summary * Supplements * PageOut * Credits

...
* All scripts and texts on this site are intended for educational purposes only * my notebook THEATRE 2008 * google.com/bookmarks | knol.google.com/k/anatoly-antohin
2006
Links Exchange -- webmasters = copy & paste:

Lijit Search
2005-2006 Theatre UAF Season: Four Farces + One Funeral & Godot'06
Film-North copyright. eCitations
© 2007 by vtheatre.net. Permission to link to this site is granted. books.google.com + scholar.google.com
DRAMA Analysis amazon
* Use http://vtheatre.net to link to Virtual Theatre pages!
script: home * appendix * biblio * books * glossary * links * new * notes * guide * list * faq * popup * references * students * papers * cyber * archive * THEMES * 215 dramlit * flickr * virtual theatre domains * notebook * map * store * amazon.com/kindle * my shared page * * my live.com/theatre
[ subjects :
forum
guests
folders
glossary
Bedford * Craft * Art * Theory * Write ]
keys: endnotes : profile.to/anatoly & Anatoly Antohin